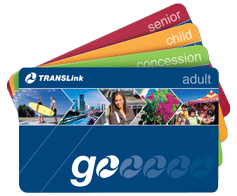 Register your go card to access your balances and transaction history online. Register online now or call 13 12 30.
Register your go card to manage your account online.
Registered go card holders can:
Top up online and over the phone
Set up auto top up (account balance is automatically topped up when it falls below $5)
View transactions (including where and when you used your go card)
Change account details.
Protect your go card balance as soon as it is reported to TransLink as lost or stolen.
Are you a tertiary or post-secondary student?
If you have a registered go card, sign in using your existing details, click the 'My Details' tab and apply for your concession fares today!
If you aren't yet registered and would like to take advantage of the benefits above, you can register your go card and then apply for concession fares. Just follow the prompts!
Don't want to register? Apply for concession fares here
Questions? Call 13 12 30 anytime.
TransLink is committed to protecting your privacy. View the go card privacy statement.